Retirement Planning Advice
For most of us, entering retirement is a major lifestyle change that can be filled with uncertainty. That's why Tim Lindsay from Roe Financial is passionate about giving his clients the advice they need to be financially prepared for this important phase of life.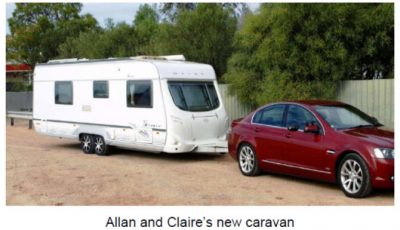 Getting Prepared
Allan and Claire Fettke first got in touch with Tim Lindsay in 2008. At the time, the couple were starting to think seriously about the future, and they wanted advice from someone who could help them create a financial plan.
"When we first went to see Tim, we were still both working, but we were approaching retirement and thought we should get some advice to work out what to do next," said Claire.
After listening carefully to their situation, Tim developed a financial strategy for the Fettkes. At the time, Allan was already salary sacrificing part of his income into super. Tim advised a similar arrangement for Claire so she could also boost her retirement savings while she was still working.
As part of their transition-to-retirement strategy, Tim recommended that both Claire and Allan set up allocated pensions from their super. This allowed them to draw a regular income stream while they were in the process of easing out their careers. Tim also advised Allan to roll over his super to a different fund that offered greater earning potential for his investment.
"After Tim suggested I changed super funds, I did," Allan said. "I'm now getting better returns from the new fund than I did from my previous one."
Retiring with confidence
By following Tim's strategy, Allan was able to retire in 2013 at the age of 61. Claire, a semi-retired teacher, was able to reduce her working hours as well. During the advice process, the Fettkes appreciated how Tim clearly explained each aspect of their strategy.
"We feel very comfortable with Tim, he's very trustworthy and very honest," said Allan. "We appreciate his integrity and the results of his advice have been very good."
With Allan's retirement approaching, Tim had another recommendation that would make the Fettkes' retirement savings go even further.
He advised Claire and Allan on a specific restructure of their super and allocated pension accounts. This changed the way their super assets would be assessable by Centrelink, which in turn increased Claire's government pension entitlements.
"Tim sorted out our finances so that I can now get a part-pension from Centrelink," Claire said. "This includes a few benefits on the side, such as the Health Care Card, which has been really useful."
Ongoing advice
With their financial affairs in order, the couple can relax and focus on enjoying life after work. They still see Tim whenever they need help with financial matters.
"When I retired, we needed to organise cash to pay for a caravan and Tim helped us with that," explained Allan. "Also, when I decided to sell some shares I wasn't happy with, Tim organised this for me and did all the paperwork."
Whatever the future holds for Allan and Claire, they know they're in a stronger financial position now, thanks to Tim's guidance and expertise.
Allan commented: "We've always been happy with the service Tim's provided and have recommended him to other friends."
Important information
Information in this document is based on current regulatory requirements and laws, as at 6 July 2015, which may be subject to change. While care has been taken in the preparation of this document, no liability is accepted by Roe Financial, its related entities, agents and employees for any loss arising from reliance on this document. This document contains general advice. It does not take account of your individual objectives, financial situation or needs. You should consider talking to a financial adviser before making a financial decision. Should you wish to opt out of receiving direct marketing material from your adviser, please notify your adviser by email, phone or by writing to us.