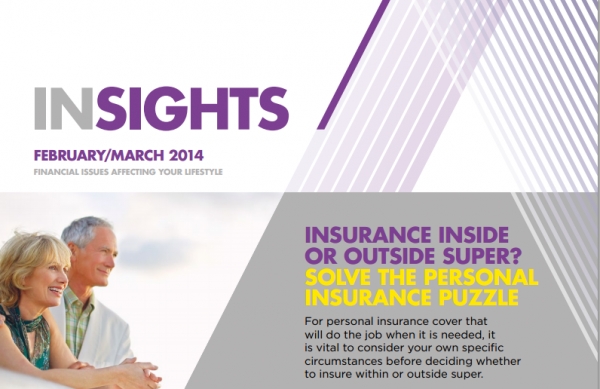 A 2010 academic study by researchers at the University of Canberra1 confirmed the fact that Australians are underinsured. This did not come as a surprise, but what did grab attention was just how serious the situation is.
The Lifewise/NATSEM project revealed that 95% of Australian families do not have adequate levels of insurance. This is a particularly major issue because, as the report also stated, one in five families will be impacted by an event such as a death or serious illness that will render at least one parent unable to work.
There is an urgent need for a better appreciation of the role insurance plays in smoothing out the unexpected bumps that can be experienced during a normal lifetime. But it's just as important to understand that personal insurance is not a set-and-forget option. In fact, as one moves through different stages of life – studying, working in a first job, married with no kids, building a family etc – the specific requirements of a personal insurance package can change dramatically.
Along these lines, one of the most obvious and important choices an individual is likely to face is whether to hold insurance inside or outside the superannuation environment. Once again, different life stages will likely influence the outcome of this decision.
Insuring inside super
Life insurance inside a retail or industry superannuation fund will often be a cheaper option.  Large funds have great buying power and are able to negotiate lower premiums with life insurance companies.
Some superannuation funds offer default minimum level of life insurance for members and the level of cover is often linked to the age of the member (decreases with age). In most cases, the default insurance is inadequate for people's needs. It is therefore important for people to review and adjust their insurance inside super to ensure it meets their personal needs.
This is where the stage-of-life consideration comes into the process. This type of insurance policy may be perfectly adequate for those that are young, working in their first full-time job and without a mortgage. But as soon as responsibilities, dependents and debt begin to enter the equation, the cover level may no longer offer the peace of mind that your circumstances require.
Policy holders must understand that superannuation funds may have their own rules about who the insurance payout for death cover can go to. It is critical within superannuation insurance to make a 'binding death benefit nomination' to ensure that the funds are paid where and to whom you expect, especially if your circumstances change.
Taking out life insurance within super can be more tax-effective when compared to having it outside of super. In most cases, premiums are paid out of compulsory contributions made into the fund by your employer, which means one's take home income or cash-flow will not be affected. However, this does have the negative effect of reducing one's long-term retirement saving as it's been used to cover insurance cost instead of saving for retirement. Alternatively, employees may pay for premiums using pre-tax dollars via salary sacrifice. In the case of the self-employed, premiums can be funded from super contributions that are potentially tax deductible. By taking out insurance within super funded by pre-tax income, may help reduce the actual cost that could be paid for the same cover outside the super environment.
Insuring outside super
When insuring outside the superannuation environment, policies such as life and total and permanent disability (TPD) are generally not tax deductible but they are also not eating away at one's superannuation balance. Policies outside of super are generally more flexible and are most often customised to the specific needs of the holder.
Easier customisation and structuring of policies means specific issues such as levels of cover and definitions of insured events, as well as extra cover such as trauma protection, can be written in to the insurance strategy. You can also be certain a life insurance payout will go to the people you want it to, and in a timely fashion, as this can all be written in to the policy up front.
Some financial institutions also allow insured people to achieve a best-of-both-worlds scenario in which customised policies such as life insurance and TPD within a super fund are linked to policies such as trauma cover outside the fund. Premiums are bundled, resulting in more tax-effective, in-super premium payments as well as savings in policy fees.
What cover do I need?
A study by Rice Walker Actuaries2 that analysed life insurance needs revealed that couples in their mid-thirties with young children require life insurance with a value of 10 to 13 times their taxable earnings. The multiplication value required for part-time workers, the report says, is much higher. Full-time workers in their mid-forties with older children require cover that is equivalent to six to nine times their taxable earnings.
But still there is no one-size-fits-all approach to life insurance. Financial advice should be sought to ensure that your loved ones are covered for debts, future expenses such as school fees, and ongoing income in the event of your premature death.
What about self-managed superannuation funds (SMSFs)?
In August 2012 new regulations were announced requiring SMSF trustees to 'consider' holding insurance cover for members of the fund. Life and TPD can be held in an SMSF, as it can in an Australian Prudential Regulation Authority (retail and industry) regulated fund, which means the fund itself owns the policies. The premiums are paid from within the fund.
By placing personal insurance within an SMSF, it would usually make the policy more tax-effective than holding the same insurance outside the fund. Premiums could be covered by salary sacrificed payments into the fund, as with a nonSMSF superannuation account, if the member is eligible.
With an SMSF it's very important to seek professional advice from your adviser, an accountant and a lawyer to ensure the fund is structured properly.
Seek advice before accepting default cover
Any time you're seeking personal insurance inside or outside the superannuation environment, it's important to become familiar with the finer details of the insurance policy itself. Ask your adviser to talk you through the fine print.
How is cover accessed and how long will the process take after an incident, such as a death or serious illness? What exact types of incidents are covered and how is 'serious illness' defined? In other words, what are the conditions of release if held through the super environment? Will benefits be taxed if they come to you, or if they go to specific people you have nominated in the event of your incapacitation or death? Is it possible the benefits could be held by the super fund until retirement age? And can some benefits be accessed early, for example during the final period of the life of a person suffering a terminal illness?
The suitability of a life insurance plan can affect every area of a family's life. In the event of an insurable event taking place – a death or serious illness – the right payout can offer choices of education for family members. It can pay off a mortgage or allow a family to upgrade or fit out their residence in order to provide care for their loved one. It can open up new levels of care for family members when they need it most and it can even add to a family's stability by keeping the family members in the lifestyle to which they're accustomed. Be sure to discuss your levels of cover with your adviser on a regular basis.
1 http://www.lifewise.org.au/downloads/file/aboutthelifewisecampaign/2010_0203_LifewiseNATSEMSummaryA4FINAL.pdf
2 http://www.fsc.org.au/downloads/file/PublicationsFile/2005_Publications_Underinsurance.pdf
Super for the self-employed
There's nobody for whom a superannuation strategy is more important than the millions of self-employed business people in Australia, and you'd be surprised by just how many there are.
Statistics from IBISWorld tell us that in 2013 more than 2.15 million businesses operated in Australia and 61% of these, or over 1.3 million, had no employees other than the business owners. That's a lot of small businesses and a lot of selfemployed business people. So if you're one of these people (or you know somebody who is), are you taking care of your financial future? And do you know which special concessions are available to you to help boost your super balance?
More so than anybody else, for those that are self-employed, it's vital to carefully plan a superannuation strategy. While those working as an employee are covered by regulations stating the exact percentage of their income that must be paid by their employer into their superannuation accounts, self-employed business people have no such structure. If they'd rather pump all of the money that could be earmarked for superannuation back into the business, or elsewhere, they have every right to do so. But if their business fails, as over 50,000 businesses did in Australia in 2013, then the funds are gone for good.
Some self-employed people consider their business to be a part of their superannuation plan. This can be a good strategy but a solid reality check on the value of one's small business, particularly after the exit of the person that built the business, is essential. Consider the time and costs involved in selling a company, and the potential for its value to drop the longer it stays on the market, and it fast becomes clear in many cases that it should not make up the bulk of an individual's superannuation plan.
Act as if you're employed
One of the simplest and best ideas for those that are selfemployed is to pay yourself a wage rather than putting all of the business's earnings into your personal account. Keep a tax account to avoid shock at tax time and include GST incomings in this account. Pay a wage into your personal account and keep extra revenues separate. As extra funds build in the 'business account' they help prepare you for lean times such as periods of fluctuation in invoicing and payment.
Of course, this more disciplined pay schedule means you can also factor in a monthly superannuation payment.Try to make sure it keeps up with rates offered to employees – currently 9.25% of ordinary time earnings (generally gross income) – and preferably add extra on top of this.
Such methodical and ordered financial management allows you to budget for upcoming expenses such as holidays and for regular investment outside of super. It also ensures such essentials as life insurance and total and permanent disablement insurance are able to be planned into your strategy to help protect your future wealth.
Tax deductions
Those that are self-employed can claim a tax benefit on some super contributions in a similar way to employees who salary sacrifice pre-tax income into super.
"Most self-employed people can claim a full deduction for contributions they make to their super until age 75," says the Australian Tax Office website. "Keep in mind that contributions you make may be subject to extra tax if they exceed the contributions limit for that year."
The contributions cap, before extra tax kicks in, for most people is $25,000 annually or $35,000 annually if you're over 60. Contributions up to these amounts will be taxed at 15%, meaning they could prove tax-effective as long as your income is over $20,542.
Putting more funds into super in a tax concessional contribution environment means less money available for you to spend but typically results in a net benefit to you financially. As the amount of the contributions, including some of what you may have previously paid in tax, goes into your super you could end up with more money than you would have had if you'd simply sent the money into your personal bank account.
Co-contributions for low-income earners
Statistics tell us that 28% of Australian businesses experience annual revenue less than $50,000. But lower income is no reason to avoid saving for retirement. The Australian Government is, in fact, helping to boost the super balances of those on low incomes through various schemes.
If you earn less than $48,516 before tax then some after-tax super contributions could be matched by the Government in a scheme known as the 'Super Co-contribution'.
Those making less than $33,516 before tax can receive 50 cents from the Government for every dollar they contribute to super after-tax, up to a $500 co-contribution. So a $1000 after-tax super contribution will attract another $500 from the Government. The amount of the Government Co-contribution reduces the more you earn, cut off completely if you earn more than $48,516.
So there are plenty of reasons for self-employed people to get their financial futures in order and many incentives to do so. Have a chat with your financial planner about the solutions that best suit your specific situation.
Market Update
An economic update from the Economic and Market research team at Colonial First State.
The big three
What have been the major economic events of the past few months?
1 United States
The US Federal Reserve (the Fed) announced a reduction or 'tapering' in its Quantitative Easing (QE3) bond purchase program on 18 December. Beginning in January 2014, the Fed's monthly asset purchases will be US$75 billion per month, rather than US$85 billion.
The Fed strengthened its forward guidance on monetary policy, stating that official interest rates will remain at near zero – 'well past the time the unemployment rate declines below 6.5%'.
September quarter GDP growth was revised up to an annualised pace of 4.1%/yr, rising from a previously estimated 3.6%/yr growth rate. This was the strongest outcome since the December quarter of 2011, due largely to rising inventories, suggesting that US companies were confident about demand prospects for goods and services.
2 Europe
The European Central Bank (ECB) left its monetary policy settings unchanged at its 5 December meeting, as widely expected. The main refinancing rate remains at its record low of 0.25% reached following the surprise November rate cut.
The European Central Bank (ECB) announced new economic growth forecasts with GDP growth of -0.4%/yr in 2013. The expected forecast for 2014 is 1.1%/yr and 1.5%/yr for 2015. Despite small upward revisions in 2014 and 2015, risks to the economic outlook remain to the downside.
3 Japan
The much anticipated Japanese economic stimulus package worth $US81 billion was unveiled on 6 December amid signs of a weakening recovery. Core CPI inflation posted a sixth straight gain in November with a 1.2%/yr rise. Japan appears to be moving steadily out of its deflationary state.
In Australia
Australian equities finished 2013 strongly, however, increasing by 4.5% in the four days following the US Federal Reserve's tapering announcement.
SPEAK TO US FOR MORE INFORMATION ////////
We are always available to discuss any questions or concerns you may have.
IMPORTANT INFORMATION
This document contains general advice. It does not take account of your individual objectives, financial situation or needs. You should consider talking to a financial adviser before making a financial decision.