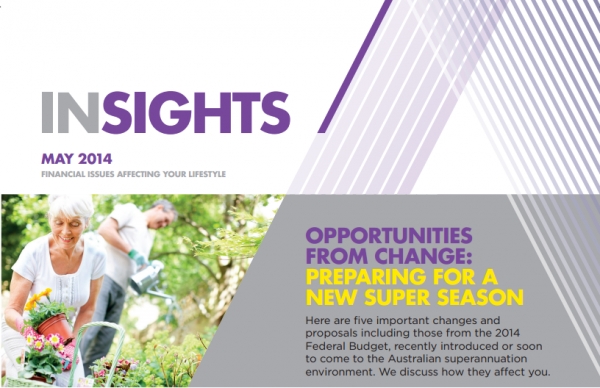 1 Increase in compulsory super rate
In the 2013/14 financial year the compulsory super rate – the amount of a staff member's income that an employer has to pay into the employee's super account – rose from 9% pa to 9.25% pa. This rate is scheduled to increase to 9.5% for the 2014/15 financial year and continue to rise by 0.5% annually until it reaches 12% pa in 2019/20. In the recent Federal Budget, further changes to the compulsory super rate were announced, freezing the rate at 9.5% from 2014/15 to 2017/18. This proposed change will delay the rate reaching 12% pa until 2022/23.
What it means to you
The rise in the compuslory super rate was welcomed by many employees – it means employers are now obliged to pay more into your superannuation account. But it is important to remember that these compulsory payments by employers should be seen as a starter for your superannuation account – it's possible they will not cover your financial needs in retirement. Extra top-ups can make a very big difference.
2 Increase in age pension age to 70
In the recent Federal Budget it was confirmed that the Government intends to increase the age pension age to 70 by the year 2035. This means that if you were born on or after 1 January 1966 (which means you are currently 48 years of age or younger) you will have to wait until age 70 before you will be eligible for the age pension.
The age pension age was already legislated to increase to 67 by 1 July 2023. The proposed change will see the age pension age continue to increase by six months every two years until it reaches 70 at 1 July 2035.
What it means to you
If you are not able to work until age 70, there will be a gap between your retirement and when you qualify for the age pension. To fund this gap, you may need to increase your superannuation contributions to ensure you have enough money to retire comfortably.
3 Proposed removal of the Low‑Income Super Contribution
As superannuation, in its compulsory form at least, increases with one's pay packet, low income earners are less likely to be able to develop a meaningful nest egg. The Low-Income Super Contribution (LISC), a government contribution equal to 15% of the pre-tax super contributions made by an individual or their employer per year (with a maximum LISC of $500), was put in place in 2012 to help combat this issue. It rebates the tax that low-income earners pay on super contributions.
The LISC benefits those earning less than $37,000 annually, understood to be approximately 3.6 million Australian workers. However, the Government has proposed discontinuing the scheme, effective from 1 July 2013.
What it means to you
If the LISC scheme is discontinued, Australia's low-income workers will be most affected. If this proposal becomes reality, it will be more important than ever for low-income workers to seek advice on strategies to top-up their retirement funds.
4 Concessional contributions caps
The concessional contributions cap, which is the amount you can pay pre-tax into your superannuation account (including compulsory super) within a financial year, has been raised.
As of 1 July 2013, the concessional contributions cap rose from $25,000 to $35,000 for those who are 59 or over on 30 June 2013. The cap for this age group remains unchanged for the 2014/15 financial year.
As shown in the table below, from 1 July 2014 everyone else will also have their cap raised.
What it means to you
One of the potentially tax-effective ways to boost your super balance is via salary sacrifice. For those 49 to 58 on 30 June 2014, you're being given permission to take an extra $10,000 per year from your income and have it taxed at a potentially lower rate of 15% by sending it straight into your super account. For those 48 and under at 30 June of this year, it's an extra $5,000 annually.
People who go over the concessional contribution cap for their age will have the extra amount included in their assessable income and taxed not at the 15% superannuation tax rate but at their marginal tax rate. From 1 July 2014 this rate will be up to 47%,1 which includes the newly increased (by 0.5%) Medicare Levy of 2%, plus an interest charge.
5 Account based pensions will be subject to deeming from 1 January 2015
Currently retirees who are eligible for Centrelink or Department of Veterans' Affairs (DVA) payments have the total market value of their financial investments deemed for income test purposes, meaning all financial investments are assumed to be earning a certain rate of income regardless of the actual income generated. At present, account based pensions (ABPs) are subject to different income test treatment, involving only part of each year's pension payment being income tested. This results in ABP's often receiving a more favourable income test treatment which can lead to higher social security payments.
The Government has passed legislation to apply deeming to ABPs and account based annuities from 1 January 2015. Special rules allow you to keep the existing income test treatment for your account based pension if you commence it prior to 1 January and are receiving an eligible social security payment since that date.
The purpose behind deeming is a good one. The system is designed to encourage investors to seek out the best possible returns from an investment rather than worry too much about what effect the returns will have on their Centrelink or DVA payments. When all investments are assumed to earn the same level of income by Centrelink or the DVA, anything earned above and beyond that level is simply a bonus for the investor.
Applying the deeming rules to ABPs means payments that clients take from an ABP, regardless of whether the payments are received as pensions or lump sum commutations, will be ignored for income test purposes, while a deemed amount of income will be assessed. The account balance will remain 100% assessed under the assets test.
ABPs that commenced before 1 January 2015, will be grandfathered (in other words, will retain their current income test treatment) provided you continue to receive an eligible income support payment and the existing ABP continues. Treatment of an ABP will change to the new rules and be subject to deeming if:
changing income stream providers
aggregating multiple ABPs
adding or removing a reversionary beneficiary (someone who will have the income stream continued to be paid to them following the death of the primary beneficiary) to an existing ABP
ceasing to receive an income support payment
commencing a death benefit pension for anyone other than a reversionary beneficiary.
Recent announcement
In the recent Federal Budget, it was proposed that from 1 January 2015, deemed income from account based pensions would also be included in the income test for the Commonwealth Seniors Health Card. However, grandfathering applies to holders of the card on 1 January 2015 with an ABP commenced prior to that date.
What it means to you
Now that this is introduced, many pensioners and allowees (those who are in receipt of a social security or DVA meanstested allowance) whose entitlements are determined by the income test may be adversely affected by the deeming of ABPs. Ensuring the grandfathering of current treatments could well be in your best interests.
Before the end of 2014, it could be worth considering converting your spouse, if currently nominated as a beneficiary, to a reversionary beneficiary. Multiple ABPs could also be combined and a general review of any current ABPs, and their providers, should be discussed with your financial adviser.
The direct outcome of this deeming will likely be an increase in a pensioner's total assessable income, potentially leading to lower age pension or allowance entitlements – in some cases significantly lower. At the same time, not all pensioners will be affected by the change as the level of pension and other entitlements depend on the income and assets tests – whichever gives the lowest entitlement applies.
It could pay to seek advice on this topic as the issues are complicated. The correct preparation for this change could make a real difference to your entitlements from 1 January 2015.
1 In the recent Federal Budget, a new levy called the 'Temporary Budget Repair Levy' of 2% was proposed to apply to taxable income exceeding $180,000.
WHAT SUITS YOU? INSURANCE FOR EVERY LIFE STAGE
Personal insurance should be regularly re‑visited in order to ensure it is offering the level and type of cover that you require at your specific stage of life. Here's a brief guide which you can also share with your family.
Young and single
At this stage in your life the idea of life insurance can seem unimportant. Risks instead come from injury and illness and the likely damaging effects on your lifestyle of an extended layoff from both work and receiving an income. Consider a sports injury that means you're unable to walk for several months, or a bout of illness that keeps you away from the office for longer than your sick leave allows.
Insurance considerations at this stage of life should include income protection, trauma insurance and TPD (Total and Permanent Disablement) insurance.
Young couple
At this stage, once an income is removed, so too are many lifestyle options, the chance to save for a deposit on a house or to continue to pay your mortgage. Can normal living expenses be paid if you're off work for several months and no longer earning an income? Will you need to eat into savings? And, if you do have a mortgage, what happens when the income dries up?
Insurance considerations at this stage of life should include income protection, trauma insurance, TPD and death or accidental death insurance (especially those with a mortgage).
Family with kids
Once you have kids, suddenly the levels of responsibility and of the damage that can be done by an unforeseen event, rise considerably. However, this is such a frantically busy stage of life that it can be difficult to find time to organise things like insurance. Remember that several lives are now affected by the death, illness or disablement of one parent. Income is vital and anything that could affect that income is a threat to the family's lifestyle. You might be paying off debt, bills are constant and as the children go through their schooling, costs tend to mount.
Insurance considerations at this stage of life should include death or accidental death insurance, trauma insurance, income protection and TPD insurance.
Mature and independent
We don't all follow a route into family life and for those who are single the risks to lifestyle are just as real. As with the previous stages, income is key to lifestyle so income insurance can provide valuable protection. TPD and trauma can also help provide a financial buffer should serious illness or injury take away your ability to earn an income for a period of time.
If you are a single parent, then death or accidental death insurance can also provide valuable peace of mind, including the knowledge that your children's educational costs and other vital financial needs will be taken care of.
Insurance considerations at this stage of life should include death or accidental death insurance, trauma insurance, income protection and TPD insurance.
Retired
Most likely at this stage of life if you have children they are independent and looking after themselves, the mortgage is paid off and responsibilities begin to recede. Finally! Of course it's important to explain to your adult children the fact that they should seek adequate insurance or an unexpected accident or illness for them could also end up affecting your own nest egg. So can you now forget about insurance? Actually, while responsibilities and costs have lessened, this life stage is when you typically have the most at stake financially. All of your previous years have been spent building a nest egg for your retirement. Now that nest egg has hatched.
While life costs and debt are typically not as great in retirement, a serious medical event still has the ability to damage your finances so it might be wise to keep your TPD and trauma or critical illness insurances up-to-date.
Insurance considerations at this stage of life should include death or accidental death insurance, trauma insurance and TPD insurance.
There are plenty of changing circumstances and responsibilities throughout your life that need to be considered in order to ensure suitable personal insurance is in place. And not enough Australians are considering the issue – a 2011 study by Rice Warner1 revealed that only 56% of us have life insurance and many of those with life insurance don't have enough, to the tune of $3.1 trillion collectively.
Personal insurance is not a set-and-forget option but one that must be fine-tuned throughout your life. Doing so offers the potential to iron out any bumps and better protect lifestyle, family members and financial goals. A major role of your financial adviser is to understand your situation and to recommend insurance solutions to better protect your financial future.
1 CommInsure Life Insurance Survey 2011.
Market Update
An economic update from the Economic and Market Research Team at Colonial First State
The big three
What have been the major economic events of the past few months?
1 United States
In the first quarter of 2014, Gross Domestic Product (GDP) growth came in much weaker than expected, recording annualised quarter-on-quarter growth of just 0.1% per year, down from 2.6% in quarter four 2013. This was the weakest quarterly outcome in the near-five year US recovery. The details were mixed, largely depressed by the severe cold weather, but consumption rose solidly, while business investment, dwelling investment and net exports all declined.
Retail sales printed stronger than expected in March, with headline sales rising by 1.1%. Also increasing in March was housing starts, increasing by 2.8% to 946,000, while housing permits declined by 2.4% to 990,000.00
2 UK and Europe
In the United Kingdom (UK), the first quarter of 2014 GDP growth increased by 0.8%. The annual growth rate accelerated to 3.1%, the strongest pace since late 2007. All sectors experienced growth in the quarter, confirming a broadening in the UK recovery story, supporting pound sterling strength.
Also in the UK, unemployment dropped to 6.9% in the three months to February, as 239,000 jobs were added, outstripping expectations of +90,000. This was the lowest unemployment rate since February 2009.
Positive news too from Europe in that there was an unexpected gain in retail sales (+4.0% in February) adding to confidence that the recovery is broadening.
3 Asia
In Japan, retail sales surged by 11% over the year, the fastest pace in 17 years as consumers increased spending before the national sales tax hike took effect on 1 April 2014.
The first quarter in 2014 saw China's GDP increasing by 7.4% per year, but decelerated from 7.7% in the fourth quarter of 2013. With the government maintaining its 2014 real GDP growth target at 7.5%, a mini-stimulus package, focusing on infrastructure and housing investments, was unveiled on 2 April 2014.
In Australia
The Reserve Bank of Australia (RBA) held the cash rate steady at 2.5% at its 1 April 2014 meeting. The RBA sees the transition from mining to nonresources driven growth as progressing, thanks to stronger dwelling investment, firmer consumer spending and rising exports.
During April, the Abbott Government signed a Free Trade Agreement with Korea, completed negotiations on an Economic Partnership Agreement with Japan, and made what appears to be significant progress towards completing a Free Trade Agreement with China.
On the sharemarket front, Australian shares reached fresh sixyear highs during April. The S&P/ASX 200 Accumulation Index increased by 1.8% over the month, led higher by the defensive yield-heavy Real Estate Investment Trusts (REITs) (+5.7%) and Utilities (+4.1%) sectors, which benefitted from falling domestic bond yields.
SPEAK TO US FOR MORE INFORMATION ////////
We are always available to discuss any questions or concerns you may have.
IMPORTANT INFORMATION
This document contains general advice. It does not take account of your individual objectives, financial situation or needs. You should consider talking to a financial adviser before making a financial decision.